The German String Ligature

Note: click on any picture for a magnification
The string ligature is known as "the German ligature in general", but if you watch todays youth orchestras in Germany, the rovner type seems to surpass in popularity. One reason might be, that a lot of new instruments for students are allready delivered with such a ligature instead of the traditional simple metal type ligature.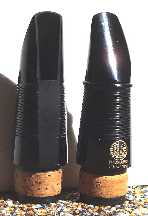 A question often asked is, "does it suit to german mouthpieces only?" The truth is, most mouthpieces for german models are either designed for exclusive or alternate use with a string ligature, and those design characteristics are located at the lower half of the mouthpiece on the conical outside. Those for exclusive use offer a shoulder followed by a row of small notches while those for alternate use have a large notch also followed by a series of small notches.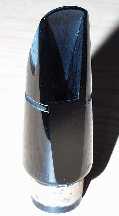 Both the shoulder and the large notch let you start winding the string more easy. Effectively, you can use the string ligature with mouthpieces without any notch, too. The first time I did that was when the regular ligature of an alto saxophone was broken. If you're going to file a notch into your moutpiece now, I advise you to take extreme care! Check the wall thickness first, and protect the lay from being accidentally demaged. Fortunately the notch only needs to cycle for an angle of approximately 270° around the mouthpiece, there is no need at all to extend the notch into the table.
Next you may ask, which type of string is used, and I have to answer that I do not know it. When you search for it in the German music stores, you'll usually find a light and a heavy type. The heavy type looks like a round shoe lace. Indeed once I heard a clarinet manufacturer saying, he allways buys a coil of a single long shoe lace and cuts the pieces he needs from this. I didn't hear anything determining the material. The light type looks like a "sateen twine" available at dry goods / haberdashery stores. I used such a twine (2 millimeters = 5/64 inch diameter, 60 % cotton, 40 % viscose) quite frequent, so I can tell you this one does not last as long as the original light type does. A knodt at each end of the approx. 1.4 meter (5 feet) long string prevents it from splitting. I've never heard of a high tech string which indicates the tensile stress actually applied to it by changing its color locally.

A winding that looks nice is quite easy, just read the following little picture story. But the art of this ligature is to control the strength you apply to the loops, and this requires some practice.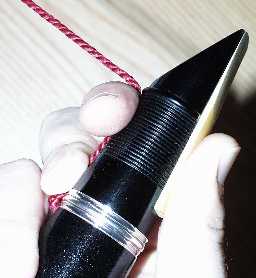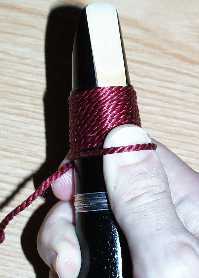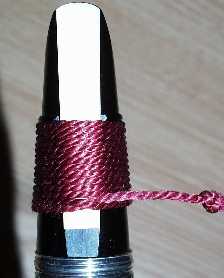 P.S.: Do not search where I hold the end of the string with my left hand! I needed my left hand to hold the camera and press the shutter release off course.



Now I have to come to some figures. I do not know how to measure how strong the clarinetists wrapped their reed, but it seems to differ in a large amount. I've seen people who made this ligature so soft, they were still able to move the reed. Perhaps they would prefer a string of 93 % polyamid and 7 % elasthan when they would have the choice. On the other hand people like me wrap the string quite hard (you may call me a "hard winder") but take care they have to adjust the reed again very rarely. The maximum force I apply usually to the third loop crossing the reed (of usually twelve or fourteen or so) and my fingers say approx. 7 N (25 ounces); call this 'the front peak layout'. It works fine with most mouthpieces and reeds, but in some conditions (with a certain mouthpiece) I need 'the front plateau layout', that is I extend the peak to the middle, in other words the maximum reaches from the 3rd to the 6th loop or so.

"Arnold the basset hornist" (Arnold Wendl), August anno Domini 2000
In this text may occur company names or trade marks (e.g. Rovner) without special notification, just used as in natural speeking.
Copying and publication in original, modified or extended form is free as long as this 'inhereted freedom' and my nickname (resp. the initial author's and all major authors' names or nicknames) are announced and mentioned honorably.
This copy is especially provided for publication at "http://www.woodwind.org".